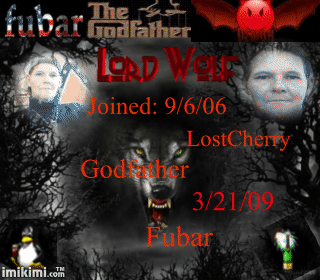 To all that Care.I will still be on fubar for a bit.I do not Seek VIP,I do not Desire it at this Time.I will still Create Morphs + Tags for Raters or those that will pay in FuBucks or FuBling Gifts.All Morphs + Tags will either be sent Direct or uploaded at my Photobucket Acct.If you Desire a Morph or Gif Tag.You will be Required to Download www.Flock.com or Firefox.If you use that piece of Shit Exsplorer in any form,Don't bother wasting my Valuable Time. Ownership: Of Others,unfortunately if you are bought away,I must let the others keep you.The Scrutiny I get for owning people,is getting out of hand.So many on fubar confuse Real Life + Fubar as one.I think owning others is fun,but others don't see things as I do.Perhaps because I exspect Rates from thoughs I Own. My Code of Conduct when Owning Someone: You are Required to Rate my Default which concists of 3 pages of mostly Morphs + Tags.In return I will Morph + Create Various Tags.I will also Post Bully's,Blogs to Help you Level. I feel this is very fair,but many Disagree. Hope u all have a Good Day.Thank You All So Much for Rating me to Godfather.
Copyright © 2013 Social Concepts, Inc. All Rights Reserved. Patent Pending.
blog.php' rendered in 0.1373 seconds on machine '236'.