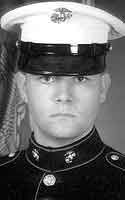 Died May 13, 2003 serving during Operation Iraqi Freedom 19, of Irvington, Ill.; assigned to 2nd Combat Engineer Battalion, 2nd Marine Division, Camp Lejeune, N.C.; killed near Hillah, Iraq, when the munitions bunker he was working in caught fire and exploded.
Copyright © 2013 Social Concepts, Inc. All Rights Reserved. Patent Pending.
blog.php' rendered in 0.1112 seconds on machine '189'.