This was name crisis' idea so you can all blame him or give him credit.
I am going to hold a Sciencey Fair.
What makes a picture Sciencey?
1. it must be done on white paper (it can be lined) because that's sciencey
2. It must be in marker (or crayon but not pencil cuz that's ghey) and at least 2 but no more than 5 colors. That shows effort.
3. it must be Sciencey so if you want to draw your ingrown toenail it must be presented as: the effects of putting my swollen broke down toe into too small highheels or soemthing like that.
4. Must be hand drawn
5. Must be as vague and as detailed free as possible but must get your point across.

EX: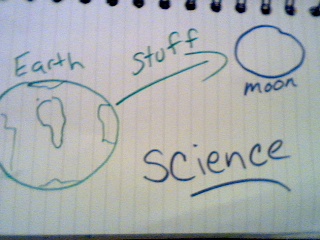 sciencey plan for moon domination by throwing sciencey stuff at the moon.
(this actually happened btw)
contest rules:
all entries must be submitted by Friday November 13th
final grades will be given out on Friday November 20th
You are not limited as to sciencey subjects.
You can use previous sciencey drawings if you have one.
You must give your hypothesis with your drawing and it should fit into the picture caption area. otherwise i will edit it and you will be screwed.

I still need to think up prizes and catagories.
Please send all submissions in a private email to me or to mformysterious@yahoo.com. All sciencey projects will be on display for grading starting on Friday 13th at noon Fu time.

please note: Reading this blog automatically requires your participation by law. Notes from parents will not be eccepted. Tardy entries must be accompanied by bling and or sexual favors depending on who you are. Failure to submit an entry will result in internet bullying and shunning. If your dog eats your project you must submit a picture of said dog pooping out said sciencey project.